11/09/14
11/08/14
11/06/14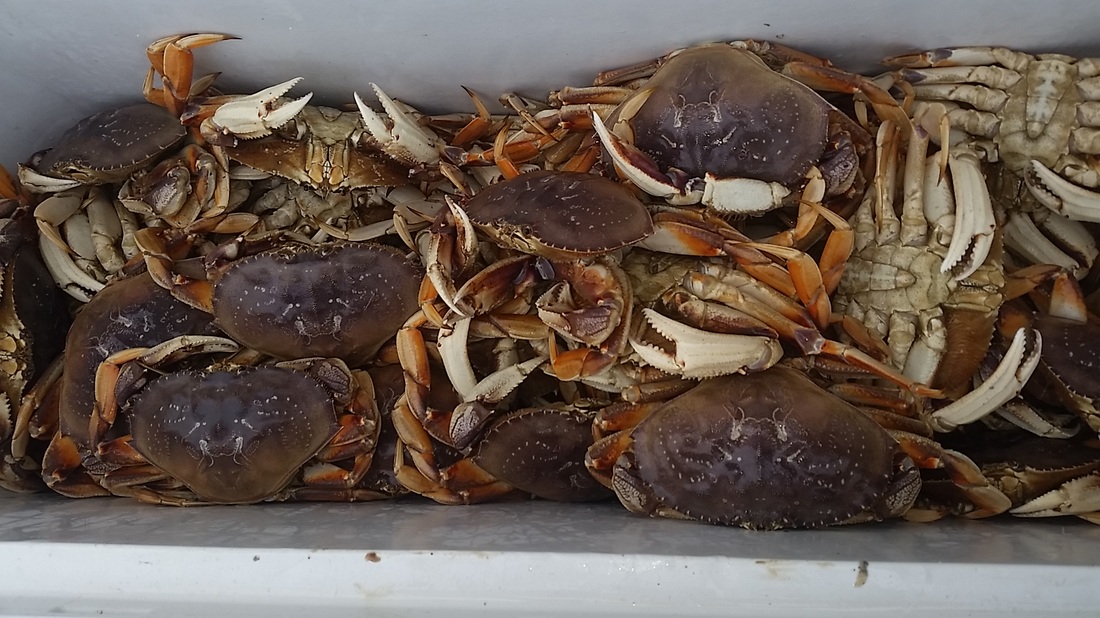 11/02/14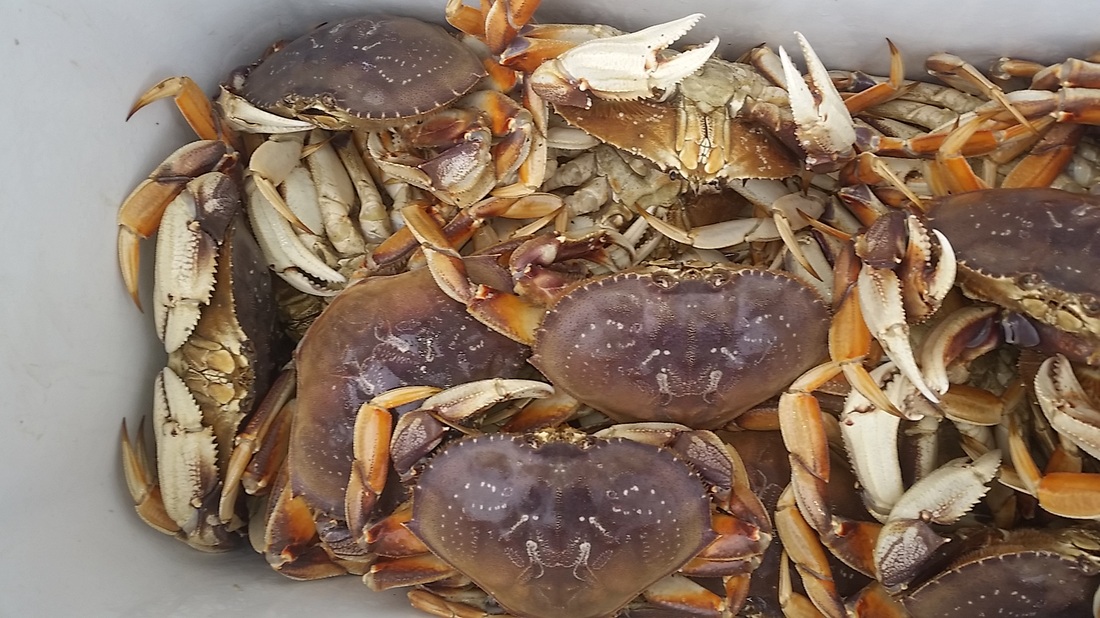 11/01/14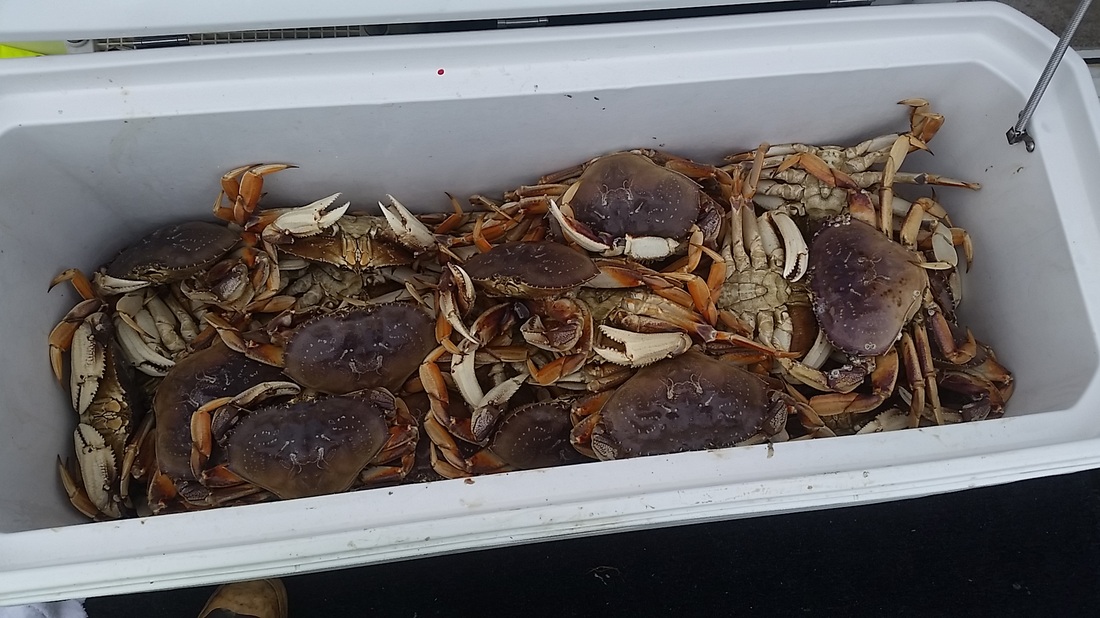 10/18/14
10/04/14
9/21/14
9/14/14
9/06/14
8/31/14
8/23/14
Pepe Le Pew says, "We got skunked?"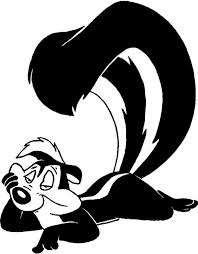 8/17/14
8/16/14
8/10/14
8/3/14
8/2/14
7/27/14
7/26/14
7/20/14
7/19/14
7/13/14
7/12/14
7/11/14
7/7/14
7/6/14
6/29/14
Pontoni brothers, fish but no pictures.
6/28/14
6/25/14
6/22/14
6/21/14
6/19/14
6/13/14
5/26/14
5/25/14
5/24/14
5/17/14
5/10/14
2/21/14 The first pictures with the new boat in the water!!!
10/5/13 Here is another write-up by a customer
I Woke, as usual, just a bit before the alarm was to sound at 4:00 a.m. I quickly gathered my belongings, stopped for a load of ice, and headed north to Eureka where I was to meet Team Foreel at 5:45.
I pulled into an empty parking lot a half hour early and enjoyed looking at the glow of the fishing vessels tied up at dock. A pair of large raccoon approached from the left and gazed at me curiously before climbing up, then down one of the light poles along Waterfront Drive. They scampered, seemingly without care and concern across the parking lot, around the bathrooms, then down to the shoreline where they began searching around.
Foreel broke up my little nature session by arriving ahead of schedule. We exchanged a few quick greetings, transferred the ice aboard and shoved off into the darkness. We made our way slowly through the bay and I again found the glow of the city lights quite mesmerizing as we cruised along. We shot past the coast guard station, made a right turn and entered the pacific shortly thereafter. We caught the tail end of the tide and it was a bit sloppy for the first few miles of our run northwest, but Foreel's 23' Parker took the slop like a champ.
The ocean began to flatten out as the first signs of daylight were upon us. The skyline had the faintest sliver of orange, then faded up to a whitish blue before getting lost in the darkness above. Another mile or two northwest and the skyline was really
lighting
up now - that orange pink shimmer spread across the surface of water. The clouds were few and thin and their color spectacular. We continued onward and slowly crept from 56.8 degree water up to 57, then 58 and eventually to 60. Just a bit further now and we found a hard edge where it jumped over
a degree
. We dropped lines in where there was some commercial intel from the day before and we trolled...and trolled...and trolled.
Without the fast and furious start to the morning like we had the previous two trips, yours truly was fading fast. Though an offshore junkie, I was cursed with sea sickness and take pills before every trip. I was sprawled out on a 156 quart cooler, dozing on and off when, the port side cedar plug finally got bit. I was immediately ripped out of my stupor and got on the rod quick - just in time for the fish to come off. I cursed angrily, then came the dreaded words come from my captain 'what did you do?'. He just came off I think I muttered, wondering to myself if I blew it rather than falling victim to a simple hit and miss. Aaron must have sensed my utter disappointment as he told me not to worry and that we would get many more chances that day. I remind you that this was our first strike in about 3 hours, so his optimism only helped so much. I know Foreel is big about getting that first fish aboard, so I felt like a real ass for not pulling it off.
We settled back into a pretty lifeless troll and began hearing word of the Crescent City fleet hammering about thirty miles north. We continued in that direction, targeting the 41 14 and got bit just a half mile southeast of our mark. The cedar plug got hammered and I steadied myself on the rod. I did my best to grind it up quick, while Cliff and his boy cleared lines and dropped baits. As is common, young Aaron screamed fish on just a few seconds later and we landed the pair, one around 15 and one north of 20#.
We got back on the troll, positioned our cedars, Redwood Coast Spreaders, and feathers and were bit in very short order...this time a single on the same cedar plug - a black and purple with next to no color left on it. We landed the large albacore and were back on the troll, this time with just 3 rods as we sensed the bite was getting better. Two of the troll rods went down instantly and I hammered down the drag to keep them close. The boys came in with bait and Aaron struck first, followed by Foreel a few seconds later...four fish hanging now and things really heating up. We got the first troll fish to the boat successful, but ran into a mess with the second. We got a bit lax on clearing that third troll rod and I had a tangle up that cost us a very nice fish...felt like the biggest of the day of course.
After that one pulled off, Cliff immediately handed me the fish he had pinned on bait and both Aaron and I landed beauties going 18 and 21#. Jumpers were starting to blast about a hundred yards from the boat, so we motored up and dropped 3 trolling rods back. We were on again instantly and were able to land the troll fish and a pair more on the stop. We were at 8 fish now and had completely turned the day around. Spirits were high and our first cooler was plugged.
We followed this pattern two more times. We would drop back three troll rods, hook up in short order, then throttle down to get on the stop. Most times we were able to get a bait fish or two on top of the troll fish and were all immensely satisfied to get to play the 'game' our way. While unable to string together a big bait stop like we had the previous two trips, we were chipping away at em and having a blast doing so. Free swimmers were ripping by the boat, their iridescent blue flashing vibrantly as they gobbled our chummed baits. It felt like a national geographic episode and I was on fire...the adrenaline surging so hard it almost made me nauseous.
We were at 13 fish and looking for 2 more before making the 50 mile run back to port. The boys had plenty of meat, so we were looking for a few more for me to take back to the fam. The action was really good and we had heard several boats up north boasting of 5 to 7 way hookups, so we decided to put out a few more troll rods of our own. We dropped a rapala short, a pair of cedar plugs deep and two Redwood Coast Spreaders with chase baits up the gut. We cruised for a few minutes before all five rods loaded up. The rapala broke off on the strike and all other troll lines were screaming. I could see the tuna coming up the line and grabbing the baits off the surface. The water would explode in a splash of white before the lures would go under and line start ripping. I was shouting at the top of my lungs, completely lost in the exhilaration of the moment. One fish pulled, one peanut went back in and two more large specimens hit the deck.
We had no baits out given all the chaos with the trolling
rods
, but had worked the chum line a bit during the fight. Albacore started popping all around the boat as we gaffed the last troll fish and started scrambling for our bait rigs. Four or five free swimmers ripped by me on the port side and Aaron came over to drop alongside me...no takers. They were crushing our free drifting chummed baits, but weren't grabbing our rigs with rubber core weights. We fished in desperation for about a minute more, neither of us thinking fast enough to grab the weightless rigs we had tied up. Then suddenly I heard Aaron yell dolphin. I glanced over and saw a pack of them come cruising by the vessel. First a few, then many, then many more started showing themselves all around the boat. We had them running alongside us, off the bow, and behind the boat and over an area several acres wide. Small skipjack were jumping frantically out of the water as the marauding pack of several hundred strong began crashing on everything in sight. Baits were blowing up out of the water as they were tormented from below and the pod just wouldn't leave us alone. They followed for what seemed like a pair of miles and we decided enough was enough.
We packed the fish from our last flurry on ice and headed to port immensely satisfied. All told we had 15 in the box from 12 to 26#. 6 of them went over 20#, with the largest two at 25 and 26# respectively. We left the fish biting and could have trolled up dozens more if we wanted to. While seeing all the troll rods load up is absolutely amazing for a fish junkie like me, Team Foreel prefers the finesse game and I am sold on the concept. Dropping back with lighter gear into a school of feeding fish is something I had previously seen only on TV or in my dreams. Now I' living out my saltwater dreams and its because of Team Foreel that this has been made possible.
The guys treat me like a king on the water and ask for nothing but a few bags of ice in return. They pass me fish after fish, share information freely and willingly and teach me some of the finer points that have made them one of the most successful boats in the fleet. Their generosity, desire to see me succeed on the water and their ability to give me crap in a loving way is priceless. I learn something new every time I board the Parker and will be ready for the blue water when I get a bigger vessel of my own.
This makes me proud of my son.
My blue water mentor is a 15 year old boy.
His
career
highlights include an ocean king of twenty nine-twelve, scores of light tackle lings, the elusive double digit rock cod, a large cubera snapper, hundreds of albacore and a 500 pound blue marlin.
He's a deck boss with nearly a decade on the water and a wickedly effectively angler. Preferring the finesse game over meat hunting, he's deadly on the slide and white hot on the bait stop. Quiet, yet confident and physically able, Aaron Friedley's status has skyrocketed to folkloric among my fishing buddies and I.
Having now shared three days on the blue water with Aaron aboard Foreel, my knowledge of the warm water fishery has exploded. He's taught me everything from trolling spreads to gaffing fish, with lots in between. I've learned about how to drop swimbaits on the slide and how to get tuna all frenzied up on a bait stop. He's talked to me about the patience needed to wait it out until they rise and has consoled me after a heartbreaking loss.
Aaron commands his deck efficiently and thoughtfully, always staying busy as he prepares rigging, cares for the catch, and keeps the boat looking good. Aaron, like his dad, gives information freely and asks nothing in return. His love for the sport is as contagious as his knowledge for the game and his success in bringing fish over the rail. He keeps his anglers on the bite and works your ass to the bone as you fight one right after the other. Aaron is as gracious and sharing a guy as I've fished with and is truly an inspiration to be around.
Deviating just a touch, I thought I'd share my feelings about young people today, as not enough kids like Aaron are being recognized for their exceptionalism. America's youth has, perhaps deservedly, acquired a bit of bad reputation. Known more for their prowess with digital devices than for their work ethic or interpersonal skills, I see kids get dismissed a lot these days in the popular discourse (not much a fan of the media these days). I have four young kids and hang around many others each year coaching sports and being out and about. In many ways I think kids are cooler than adults. They are loving, trusting, and genuinely good. They desire acknowledgement and want to feel safe and secure. I think the world has a way of sapping the spirit out of children and poisoning them in some ways. Through experiences and exposures, many of us become a bit more jaded or cynical over the years and just aren't as much fun to hang around.
Kids like Aaron go unnoticed in many ways. The dude is a flipping world class angler at 15 - I'm talking like bringing home the gold kind of stuff - and most people don't know him from Adam. Young people can bring a lot more to the table than commonly given
credit
for and Aaron is a great example of this. He and many others have gifts they can share with us if only given a chance.
At 35 years young personally, I am proud to say that my blue water mentor is a 15 year old boy. Just because someone's young doesn't mean they can't teach you the world. Remember that as you look around and engage with little ones. While immensely disappointing when a young check out clerk fails to make eye contact with me at the supermarket, I give kids a bit of leeway and love em anyways.
If you're ever on the water fishing out of Eureka or the Landing you just might give Aaron a shout - he can probably get you on the bite if your searching. And who know's, maybe we'll all be chartering with him in the future??
Tight lines,
Jesse
9/30/13
Here are some more hunting pictures.
9/21/13
Caught by Captain Hernan Ramos in Mexico. The Sailfish, Dorado, and school sized Yellowfin are there in numbers right now.
9/15/13 He liked it so much he had to go again!
After my first successful tuna trip aboard Foreel a week and a half ago, I've been possessed by the blue water. Countless times each day I re-live those albacore hookups as I envision their electric blue flash in the water and remember the excitement I felt as they crashed around the boat. I've been fueling this new love affair by spending time on Rip Charts, watching youtube clips of tuna fishing, and researching pelagic species, popular gear spreads & boats. Every day I have hated not being on the water and have been a bit frenzied up about the whole thing.

The Eureka fleet's success on Thursday the 12th and a friendly ocean forecast for Sunday was all it took to stoke the fires in Foreel. I had been in Cliff's ear all week about fishing and I received a text about the trip on Saturday afternoon. I dodged a few bullets from the Mrs. as I convinced her that changing our plans for me to go fishing was a better idea and began preparation for the next day.

Sunday morning now, 12:05 a.m. and I haven't slept a damn wink. My mind was racing and I couldn't stop thinking about wrestling with a big albacore. As the morning wore on, my aspirations grew. I was now envisioning myself doing battle with a big bull dorado as he lept wildly out of the water. I imagined myself yelling sail as a triple digit Pez Vela crashed on one of our offerings or yelling at my captain to motor up as I locked up with a large pacific bluefin. Nearing 1:00 a.m now and I'm thinking about an all nighter as the alarm was set for 3:30. Somehow I drifted off and awoke, as I normally do, five to ten minutes before the alarm sounds.

Made a quick stop for a 300# load of ice and was off to the dock to meet the boys. We slipped out into the quiet of the morning and began a peaceful cruise through the bay. We turned right and ran into a bit of low fog just past the jaws, so crept along slowly until it lifted a few miles further west. Daylight was coming now and the clouds were lit up in a grayish hue that I found quite mesmerizing. Not sure if it was the two hours sleep I got or the Dramamine starting to dig in, but I found myself in a blissful, trance-like state as we powered along in the low thirties. We cruised a good distance southwest and heard the first successful boat speak of a triple on the 30 11 if I'm not mistaken. We were a bit north but on a similar west line, so had a quick look around. Our captain wanted to see more and wisely motored west.

We found warmer, cleaner water and were instructed to set the gear. Aaron and I dropped a 6 rod spread back as his younger brother Chris (who I now also adore) hung out with dad in the cabin. It may have been two minutes, probably more like one, when the port side cedar plug went off. Unlike the first trip where Foreel was milking the troll and looking for multiple hookups, he quickly throttled down and told me to begin working the fish. Team Foreel quickly cleared the trolling lines and Chris began pitching a few dead baits as I worked my fish to the surface. I could see Aaron and Cliff scrambling for the bait rods and the spinning gear and saw them casting just seconds later. Aaron screamed fish on as he locked into one on the slide. We landed these two beauties, followed by 3 more for a solid 5 fish stop to get things going.

Set the trolling gear back, just 4 lines this time and the plug was bit again instantly. I got on the fish quick and Foreel again motored down and starting pitching baits...another slide fish, followed by another on the stop for a quick 8 in the box. We got back on the troll with our 4 rod spread and were bit in short order. We got the troll fish, but for the only time that day, didn't get any takers on dead bait or swimbaits.

We had another 3 fish series, one on the troll and two on the stop, before catching fire for about 30 minutes. We had gone to just two troll rods, the cedars fished long and both reels were screaming in no time. I took one and Chris, just 13 years old, took the other. If memory serves correctly the young gun was a bit more man than I, bringing his fish to the gaff before mine...must have been cuz I had already reeled in a good handful!!! Next thing you knew Cliff and his deck boss had the albacore all frenzied up and gobbling our baits within eyesight just under the surface. Both of them were locked up quickly and our captain, as he did so many times that day, graciously passed me an ultra hot bait fish that proceeded to tear me up. Things were really cooking now, and I began to hoot and holler loudly as I could no longer control myself.

Chris was on a short time later, hooking a beauty on bait that immediately tore off just about a full spool of 65# braid. After several trips across the deck and around the motor we gaffed his albacore, a hot 23-25# class fish that was our biggest of the trip. That stop produced 12, our best of the day, and it was one of the most intense and most fun sessions I have ever had on the water. Foreel was laughing hysterically as Chris and Aaron put the wood to fish after fish, landing most and only losing a few over the course of the entire day.

This same pattern continued all morning long. We would set the two cedars back, wait for a minute or so, then watch one or both of the reels start to scream before killing the motor and calling the albacore into our bait line. We ended the day with 36 tuna and one skipjack. Most of our fish were school sized albacore in the 12-15# range, although we had a handful over 20#. We left a white hot bite at about 1:00 as we had plugged the boat and couldn't take another fish. Rave On, the only other vessel in our neighborhood was plugged about the same time and had boasted of several 6 way hookups of similar size fish.

Another day to remember on the mighty pacific. Thanks to team Foreel for being world class guys and world class anglers!

Jesse





9/6/13 This is a write-up written by a customer.
As I shared the other day, tuna have been calling me for the last 10 years. My only trip was out of Oaxaca Mexico a decade ago and it was a total dud. The first two days were blowouts and our third and final one sucked with a small skipjack landed and one tuna lost.

Not having a vessel suitable for tuna fishing, I normally ignore stories of the local albacore bite as they are painful to stomach. I am the guy who longingly watches the warm water fishing shows, anxiously awaiting the day I am no longer buying expensive jeans for my daughters and can, instead, put some resources toward a boat payment. Missing the offshore fishery was a tough pill to swallow for a nut like myself, so I distanced myself from the problem. I never purchased any tuna gear, I ignored learning about the species and I never even went down to the docks to purchase any off the commercial guys.

This year though, I was having a hard time keeping my head in the sand and ignoring the bite. I found myself following the actions of the tuna fleet and reading the forum regularly...learning what the guys were using and what they were looking for in terms of finding fish. Finally throwing in the towel and giving in to temptation, I put a ride request on the forum two days ago. Later that day I called Foreel, a friend from my days in the door shop, for the skinny. I was thinking of running my buddy's 16' bayrunner to grounds (I told Cliff it was 17' to try and irk a more positive response out of him) as we heard the fish had pushed in close at the cove. He shared that they were straight off Eureka as Rave On and others had posted and that we would need to push out at least 35-40 miles to get into them heavy. I grumbled that there was no way as my bro's cutoff was 20 miles.

I was really bummed out and then heard the most beautiful words come out of Foreel's mouth...'you can come with me tomorrow if you want.' A surge of energy shot through my whole system and my excitement grew to a fever pitch when he told me I could bring my buddy Dan along for the ride. Dan is another nut like myself and one that I have long dreamed about a trip to blue water with. He caught his first salmon ever, a fat 20# buck, using one of my lures on the eel years ago and we have been fishing mates since then. We have caught many a salmon, bottom fish, bat ray, shark, crab, etc... together, but never anything as cool as a tuna.

We were to meet Foreel at the Eureka launch at 5:30. We rolled in at 5:07 and had to wait just a few minutes as Cliff and his deck boss Aaron pulled in shortly thereafter. Unlike my foray into Mexican waters where we fished a panga using aged Penn reels and dull hooks, we were riding in style aboard Foreel. The boat was clean and bright, with a host of electronics and a gear spread like none other I have ever seen. I manage money for a living, so have become less surprised by affluence and nice things over the years...that said, I was blown away with Cliffy's setup and was fired up from the second I saw them pull into the lot.

We suited up and backed the boat in after greetings and a transfer of 250# pounds of ice. We began pushing through the bay, a treat for those of us who always launch in the Landing. The city lights were glowing attractively as we passed the relics of a more industrialized past. We turned right, motored up and entered the Pacific just as darkness began to give way. It became apparent instantly that Foreel was the man...he was receiving lots of radio call outs and was sharing intel with all who asked for it. We motored for a good while, targeting roughly the 46 125 and change. On the way out water temps went from 60 to 63 and we began seeing dolphins crashing on bait. Disciplined, our captain motored on...looking for more.

Aaron, a strapping 15 year old boy and as good a kid as I've met in a long while, began rigging rods and we dropped in for a few minute tester troll shortly thereafter. Aaron worked the gear professionally, explaining the method to his madness as he dropped back cedar plugs, Redwood coast spreader bars and other gear. We pulled up and motored a few more miles west before dropping again. We got the gear set, this time Dan and I helping as Aaron patiently and confidently instructed us what to do. In a matter of moments our short rod, a rapala at about 10 pulls, began screaming as a tuna collided with it full force. I wrestled with the beast for a while, amazed at how strong and fast it was. After bulldogging me for a bit the fish tired and we boxed a low 20's class fish, my first albacore ever. We dropped the spread back and bang, another quick single which Dan brought to the gaff...another nice fish around 20#.

It was at this point that things really got cooking. We had pitched a few chovies overboard as Dan was battling his fish and then something magical happened. The tuna, just as I had marveled at on television, began crashing on the surface, gobbling up the tossed baits and ripping visibly through the water column. Aaron screamed fish on as he locked up with a dandy on a swim bait. He passed me the rod just as cliff poked one of his own, also on a swim bait. He handed the screaming rod off to Dan and we landed another pair of 18-20# class fish. We stayed in that same spot, motor killed for at least 90 minutes as we proceeded to land another 16 beauties before our epic bait stop was broken up by an inquisitive blue. He so wanted the 25# albacore I was fighting and approached the fish several times. The Foreel crew kept him just occupied enough by causing a surface disruption on the other side of the vessel and we boated our 18th of the stop. During the mayhem we had a ball of bait hiding under the boat and also saw a huge school of chubby mackerel go cruising by. I was floored by the sheer awesomeness of the experience. Things were popping off just as I had dreamed about and I was experiencing it among great company while being treated like a king by Cliff and his deck boss.

We cursed the blue for putting an end to the fiesta and put the troll lines back in, cruising for just a few moments. My bathroom break was interrupted as I heard shouts erupting from everyone on board. I turned around just in time to see the last jump or two of an epic aerial display put on by what we believe was a sailfish...looked too long and slender to be a sword. We trolled onward, landing a pair of singles, two triples and a double to stuff the boat in short order. All fish, save one 12# that I caught, were in the mid/upper teens to low twenties, with a handful of fish estimated to go around 25.

We motored back to dock full of adrenaline, excitement, and accomplishment. The long ride went quickly (aided by 250 ponies at 5000 rpm) as we shared stories and re-lived the many memorable events of the day. We arrived in eureka, told a tale or two to the fish counters and then parted ways. I can't say enough about Foreel and his boy Aaron. They passed us fish after fish and shared many secrets of the trade to arm us with the knowledge we'll need in becoming successful tuna anglers. They had a plan and executed it perfectly...find the fish, frenzy em up, and hang on. They got us on a bait stop that may be better than any other we will ever experience and both of us were able to hook and land fish on swim baits, dead bait, and trolling rigs. For Dan and I it was truly the trip of a lifetime and something we'll never forget. And yes, in case you were wondering, we were scheming about how to come up with our own tuna boat on the way home.

We owe you one Foreel and thank you for being a friend and an amazing captain!!

Cheers,
Jesse

8/31/13-9/2/13
Just a small break from fishing, I thought you might like it.
8/18/13
8/17/13
8/16/13
8/15/13
8/14/13
8/13/13
8/10/13
8/6/13
8/5/13
8/4/13
8/3/13
7/31/13
7/30/13
7/17/13
7/15/13
7/13/13
7/12/13
7/7/13
6/29/13
6/23/13
6/22/13
6/21/13
6/17/13
6/16/13
6/15/13
5/18/13
5/11/13
5/10/13