What can you do?
The great Mexico fishing experience is avaliable to you where you can fish in pristine lagoon and ocean waters while you stay in an authentic Mexican fishing village. We offer several different excursions such as bay tours, whale watching, fishing, translation services, vacation house rental, and much more.


Barra De Navidad is situated right on the beach about 200+ miles south of P.V. (Puerta Vallarta) The fishing is great, the area is safe, and the people are fabulous. A small town of about 5000 people. The Airport is about 20 Minutes from town with a beautiful drive by Taxi or being picked up by a driver. This is a wonderful place to play and relax! With a town full of nice vendors, Clean, and no people panhandling for money. Its so safe my almost 70 yr old mother goes by herself and stays for 4 or 5 months! She doesn't speak Spanish! This is the true experience of Mexico. Reasonably priced food,drink,and local art to purchase. Being by the ocean,this may be the freshest seafood you may ever eat!If you plan on eating out you can expect top restaurants to be about $10 a plate for a full course dinner which may include Lobster..I buy lobsters for about $7.00 ea out of the local fish store, American dollars translated to be about 70 pesos. This vacation area is very reasonable and you can expect to pay about 50 or 60 dollars a night for my whole house, which sleeps eight people, and completely furnished.
---
Fishing!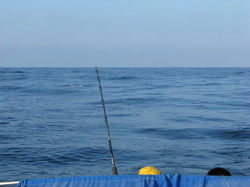 Fish-On!! Fish-On!!
Here in this amazing little town you can fish to your hearts content with a six plus generation fishing captain. While enjoying a day out in the sun fishing in prime water conditions relax and let the captain deliver you to the ultimate fishing experience. There is something to fish for all year long. There is fishing in the lagoon and ocean fishing too, including marlin, dorodo, wahoo, yellowfin, sailfish, and several others. All gear is provided in the charter business. There are many great reefs to snorkel and spearfish at. Scuba diving is also avaliable.
---
---
Explore Authentic Mexico!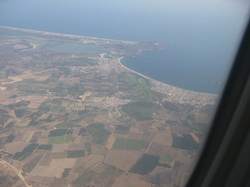 Your friendly town of Barra De Navidad from the air.
Take a stroll through a real town in Mexico and enjoy the sights, sounds, smells, and tastes of a local area. Whether you like to go to the many small shops, sight see, or just take a walk and see where you end up, this is the place to do just that anytime of the day or the night. Perhaps you have a liking for ancient history. If that's the case, you could go see the Ancient Aztec ruins in nearby Colima.
---
---
Relax and enjoy the sun and the beach in a calm environment with minimal people!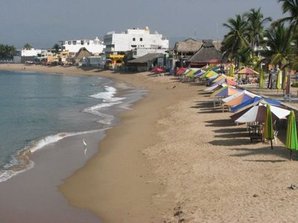 This is a local beach that has plenty of privacy .
Whether you want to relax and spend a day snoozing in the sun, or surf in the waves, this is the place for you in a kid friendly beach enviornment where you can fufill all your beaching needs. For the kids that love to swim, you can go to the beach and watch them play, or join them yourself. You could take a romantic walk down the beach, have some margaritas, read that book you never get a chance to, or just get a nice sun tan. When it comes to beach activities, the sky is the limit.
---
---
Eat delicious Mexican cuisine!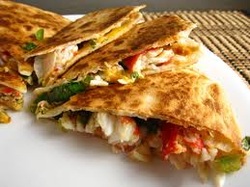 Look at this tasty lobster quesedilla. Yum!!
Visit many amazing restaurants spread through the very heart of Mexico where you can have all the food you desire. You can have a fancy sit-down meal to a casual beach restaurant or you can visit the local market and have yourself a homemade meal from fresh ingredients and tortillas made in the tortilla factory just next door.
---
Wildlife Watching!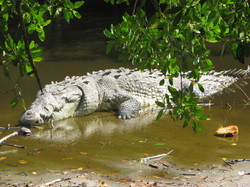 Look at this wild Saltwater Crocidile!!!
You can stay and look at the wild animals that live in town. The wildlife is amazing. You can see the animals taking a walk down the street or sleeping on a roof. You can usually see an iguana or two if you look hard enough. Or you could go see the crocs in La Manzanilla. Go to the zoo in Guadalajara and look at all the animals there or go learn about the history of this ancient city.
---
---